Seo agus Siud Edition 6 June 2019
At the end of June 2018, our leaders and young people travelled with me to take part in our Annual Summer Madness Christian Festival – which is held yearly in the grounds of the Unionist stronghold of Glenarm Castle, Co Antrim. Over 1,500 young people from both loyalist and republican interface areas – in Belfast, and beyond – gather to work at celebrating diversity – ahead of the 'marching season' – and in an effort to ease tensions and hatred within their communities
Summer Madness is a 5 day festival that brings together over 2,000 young people, from all religious backgrounds, across the island of Ireland to celebrate, connect and explore the significance of faith in today's world. There seminars, debates, workshops and input by internationally renowned Christian speakers and worship leaders,


True to our SSL Mission Statement, 'striving to be agents of change, called to serve in a broken and divided world', we felt called once again to play our part in allowing a new generation to experience life in a shared environment – even for one week in the year!! And yet, when we arrived, some loyalist youths looked at ours with suspicion, as if they had rifles in their rucksacks – but what can we expect, coming from Andersonstown!! By the end of the week, it was an effort at living SINT UNUM!!! At least we all tried!
After the initial registration there was great fun putting up the tents in the field – with a lot of help from the groundsmen. It was then off to the huge marquee - to be introduced to those running all the activities, workshops, sports sessions, times for worship, and much more. And this year was no exception. Our young people settled down very quickly and became absorbed in all that was going on – especially taking part in all the sporting activities, across the divide. I was anxious about introducing some of them to worship for the first time – but the hymns were quite charismatic – and before long they were clapping and swaying with all the others!!
Last year one of our priests came up to Glenarm to join us on his 'day off' from the parish. It was Fr David Delargy (Enda McMullan's nephew). David is quite a celebrity, being one of the now famous 'singing Priests'. He quickly came to the attention of the Summer Madness organisers – not just because he sang with us at worship, but because he entered several of the activities with our young people – including the zip-line (much to the sheer amazement and delight of all). David was our parish priest until last Aug, when he was moved to the Loughshore parishes in North Belfast. He is still very much involved with us, whenever he has time – missioning our young people for various faith-development activities – celebrating the Eucharist for them on very special occasions, and attending Faith Filled Fun Days for the P7 Confirmation pupils. Our young people love going over to his parish to help out with similar events.
News from Anne McCourt in Belfast
This year, I was on the organising team for Summer Madness. John Kee, the guy in charge, asked me straight out if it would be appropriate to have 'a Catholic Mass' on the site. Having waited for this question for 15 years – I could hardly contain my delight. It would have been unheard of several years ago. On Sunday am, we have always taken our young people out quietly to a Catholic Church further down the Glens, sometimes being made feel guilty! The next question was 'would Fr David Delargy do us the honour?' And he did – without any fuss or discussion. The Mass was absolutely beautiful, with David singing during it. As I looked around at the young unionists staring at the altar, the thought struck me that had this taken place during the Penal times – the ancestors of these same young people might have 'grassed' on the priest, whereupon he would have been dragged out and executed on the spot!! Instead, to my joy, the general verdict was that they much preferred David's singing to the loud worship!! Sunday 1 July was an historic occasion for us Catholics in Summer Madness – and in Glenarm Castle!! Wouldn't Gertie (RIP) be so proud of her 'now famous' boy – and beside Garron Tower, which meant so much to both of them!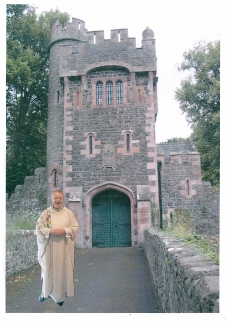 My first Christmas card came from the Summer Madness Office. The picture was of Glenarm Castle with the sun setting behind the tents – young people sitting outside in groups. Below the young people read: THE WORD BECAME FLESH, AND PITCHED HIS TENT AMONG US. (John 1:14). For me, this summed up the experience of SM – even for one week in July – and before bands and bonfires appeared on our streets in Belfast for yet another year – getting young people to retreat into the safety of their own communities!!


We in St Louis House (beside the school) are linked with a youth group in North Belfast – Hazelwood. And as we complete our post- camp experience of Summer Madness, the young people have chosen a lovely theme – FROM DARKNESS TO LIGHT – through drama and music – sharing the darkness of the past in NI – the 'troubles; murders, hatred, and sectarian violence - to the hope and light of the present day, when young people can stand side-by-side, even if our politicians refuse to speak to each other!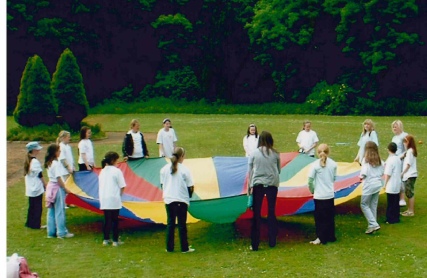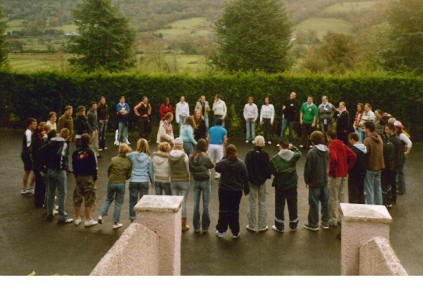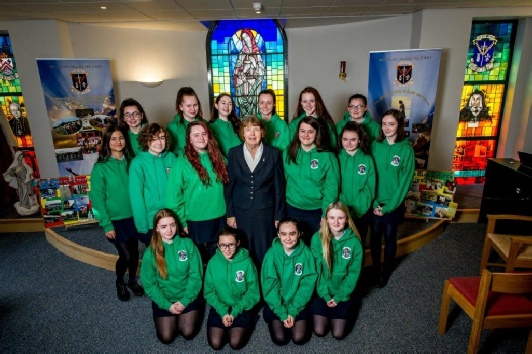 Every day in St Genevieve's Oratory, we pray to Genevieve Beale for her protection and guidance. While very much a St Louis High School, (we couldn't be called as such, on account of St Louise's further down the Falls Road) we are so proud of the fact that Mona named the school after one of our ancestors! Maybe Summer Madness is one of God's ways of getting us to follow Bautain's vision …. of a world healed, unified, and transformed – by the saving wisdom of Christianity. Anne McCourt (Youth Programmes Co-ordinator, St Louis House/St Genevieve's High school, Belfast)
One of our voluntary leaders in Saint Louis House was given the special responsibility of organising the youth team to work at the RDS with young families – during Pope Frances' visit in August. (see youth in yellow!) Five of us went down with our group, as senior leaders – and it was an unforgettable experience for all of us!
Each day hundreds of families brought their children to the youth tents, where they were given a special gift from Pope Francis – a copy of Youcat for Kids – and entertained by all the young people!
ST LOUIS HOUSE YOUTH MEET POPE FRANCIS AT WORLD MEETING OF FAMILIES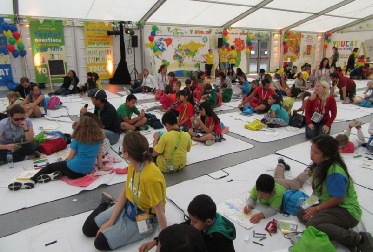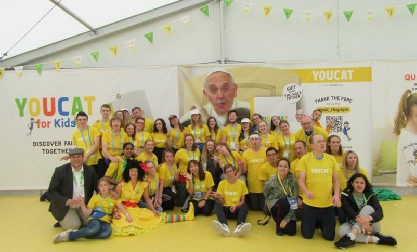 The week passed very quickly, and as a reward for our hard work, we had a special stand beside Pope Frances during the Papal Mass. During that week, I felt I had really climbed the spiritual ladder – but then, why not! Pope Francis was delighted to meet someone from N Ireland – and from St Louis House Belfast in particular!!! Anne McCourt