With the focus on our convent on Blakestown Road being the new home for the Archives and also a CLT residence, we thought it would be good to look back over the years of St Louis involvement in the area. Three of the many former residents have shared their memories of living there.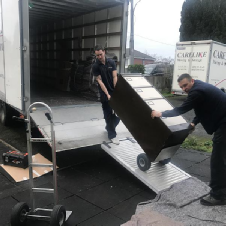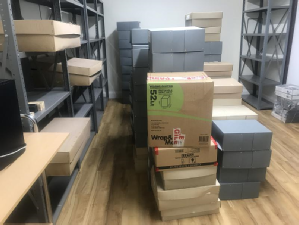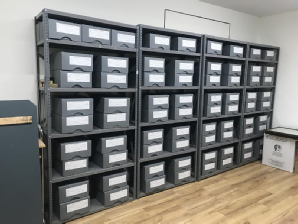 When assigned to "Mulhuddart", as it was then called, in August of 1978, I thought we were heading to the foothills of the Dublin mountains. It turned out to be the flatlands beyond the Phoenix Park! It was a new Parish, a mixture of private and local authority housing. A sizable number had come from Ballymun. They brought with them a strong sense of Community spirit, and a willingness to work together. Unemployment was high, around 80% and that posed its own problems.
Noel Ingoldsby, Frances Gates and I set up home in 192 Briarwood Lawn. It was a halcyon year! We had a sense of being part of a project that was at the cutting edge of a renewal of Religious Life. We were Ivan's pet project and she visited us often encouraging us in myriad ways. "Faith Sharing" was the big new "thing" and we were very enthusiastic. In fact we shared everything including lots of laughter! It was one of the first experiments of small Community living and it was a joy that first year.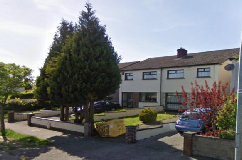 Noel and Frances tapped into their Community sense and it wasn't long before all sorts of groups were up and running, Playgroups, self development, cookery classes. We visited every house in the Parish and Noel was on hand with her famous notebook to welcome every newcomer to the Parish. There is a true story told about that famous notebook. At one stage Noel, in full habit, was mugged as she walked down Dominic Street near the Ilac Center, in Dublin. Her bag was stolen. It will give you a picture of her determination when I tell you, shook and all as she was, she followed the culprit into the nearby flats! Meeting a woman there she shared her plight. "Just give me back my notebook" was her plea, and Reader, it was returned to her!! No, the bag or other contents were not returned!
I was part of the newly formed Primary school. The first month was spent in a prefab which doubled as a Church at the weekend and in the evenings. We began with 100 children in spaces divided by curtains! You can only imagine the noise level. An Inspector came in during the first week and the visit lasted just 10 minutes! Too much for him! In October we graduated to the first finished wing of the new school. The noise of building went on all around us that first year. We began with just 5 teachers and at one stage, over the following years, there were over 1,200 children on the Primary campus. As teachers were added to the staff John Tyrell, the Principal, saw to it that there was an equal ratio of women and men. As in the Parish we had the sense of the privilege of building up a new school with a new ethos and spirit. We were young and enthusiastic and we were going to be the best! As a staff we really enjoyed each other's company, whether it was planning the curriculum, painting the hall or taking part in the numerous extracurricular activities afforded the children. We even had an initial staff meeting or two in the pub...simply because it was the only quiet space available!
September 1979 saw two big events. I was the first to sleep in the newly purpose built convent situated on the site of an orchard. Dermot Mc Niece OSA had a local artist hew a statue of Our Lady for us out of a trunk of one of the apple trees. During those first couple of days there was just one electricity line coming in to the Convent, so one could either have the light on or boil a kettle...but not both at the same time! Three further Sisters joined us that year, Mary Gibbons, Mary Finan and Margaret Nolan. For the next 16 years there was a change every year into or out of the Community!
The second notable event that September was the Papal visit of John Paul. It was the high tide of Faith in the Country. Two memories in particular stay with me... the preparatory inter Parish choir practices... [goose bumps at the sheer volume and enthusiasm of the singing] and the 4 am walk to the Phoenix Park with candles in all the windows and the swelling ranks of walkers. It was a once in a lifetime experience! Cameos of memory come to me around those beginning years. The January of the big snow in the early 80's. Standing on the snow covered foundation of the new Church and praying for all who would ever worship there. Little thinking that we would stand in that self same spot some 40 years later as the final Mass was being celebrated in the Parish. There is a time for everything...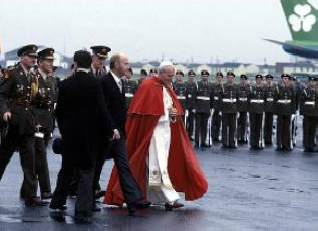 Coming from a Community of 25 in Ramsgrange I remember giggling as I put just 3 potatoes in a saucepan as we prepared for dinner on one of our first evenings in Briarwood!
There were 100 Lawson Cypress trees planted around the periphery of the new house. We woke up one morning to find them all gone!
There was an attempt to burn down the aforementioned Prefab. One of my 6th class pupils was praised to the heights around the place and in the Parish Newsletter for alerting the Guards to the blaze. The fire brigade attended and the damage was contained. It subsequently emerged that he had started the fire himself. When asked why his answer was simply "I didn't think I would get caught!"
Then there s the time the Community went to an Assembly in Emmaus. We asked two Srs from Monaghan to house sit for us. Unfortunately that was the very time some intruders picked to burrow a hole in the slanting roof of the Community room intent on "lifting" whatever they could. Finding a 20 foot drop beneath them they abandoned the roof and attacked the back door instead! I actually can't remember whether anything was taken on that occasion. But we did feel sorry for the visiting sisters!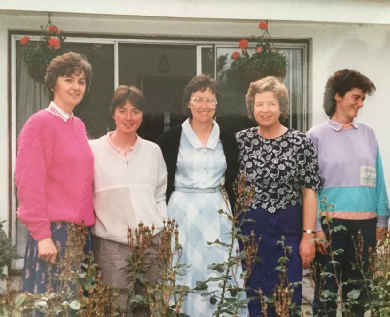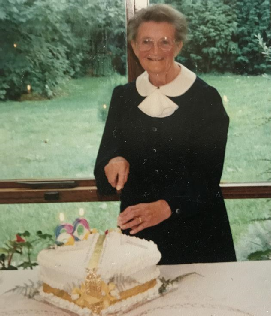 Poignant memories emerge too. Fr. Madden coming to tell us that Ivan had been killed [We had no phone.] We were utterly shell shocked. He sat with us for hours as we tried to digest the news. She had been our mentor and we were lost for a long time without her.
July 1990, coming in from a bike ride to hear on the News that a "Mercy" Sister had been killed by a bomb near Caledon, in the North. I had an immediate instinct that it was Cate. I rang every number for Middletown and Monaghan with [naturally] no reply. Finally I rang No. 5 and Miriam Therese picked up. I will never forget the long silence that followed my question. And then she said "Please don't say anything to anyone..... her Parents have yet to be told..."
As Meabh has written we laughed and cried and prayed and fought in Blakestown! We also grew! Returning from a year in Berkeley I discovered a new house in Briarwood and a proposed Novitiate in "The Convent". They were extremely rich years. The novices challenged us by their presence to be the best selves we could be. Our praying together expanded. We became aware of our "in language", like Vespers and Compline and the like! Though none of them subsequently "stayed" we were all enriched by the experience and had our horizons widened.
Blakestown had a whole other history after 1994 when I left. It is a proud and fruitful history from August 1987 on. To quote one of Kathleen Kelleher's favourite Scripture passages to us as Junior professed back in the day: "As the rain and snow come down from heaven and do not return without watering the earth, making it yield and giving growth to provide seed for the sower and and bread for the eating, so the Word that goes from my mouth does not return to me empty, without carrying out my will and succeeding in what it was sent to do." Is 55:10-11. We who were privileged to be part of that "Word" in Blakestown leave all our efforts in God's hands now!

I had recently retired as Principal of St Louis National School Carrickmacross and was just settling into a new style of life in Ballycullane when the call came to a different kind of ministry in Blakestown Community, Dublin. My old school friend Sr Mary Finan had been recently diagnosed with Alzheimer's disease and I was asked to accompany her through what was slowly becoming a deteriorating condition. It was a graced time as Mary still retained command over her beautiful singing voice and it was at this time that Barbara McHugh, a St Louis sister at that time, succeeded in getting some first-class recordings of Mary singing *Panis Angelicus* and the St Louis favourite, "Quid Retribuam". I have kept these as my treasured possessions. But Mary was going downhill and by 1994 it became clear that the Nursing Home in Rathoath would be a more suitable place of care.
I was now available to join the Pastoral Care Team in Blanchardstown Hospital which turned out to be a highly rewarding mission experience. I had no previous experience of hospital ministry, but I was able to listen compassionately to the fears, pains and worries of the patients, in their good days and bad days as I brought them Holy Communion and prayed with those who wished it. I also had a good rapport with the staff members especially with the staff of the Alzheimer's Unit where I spent most of my time.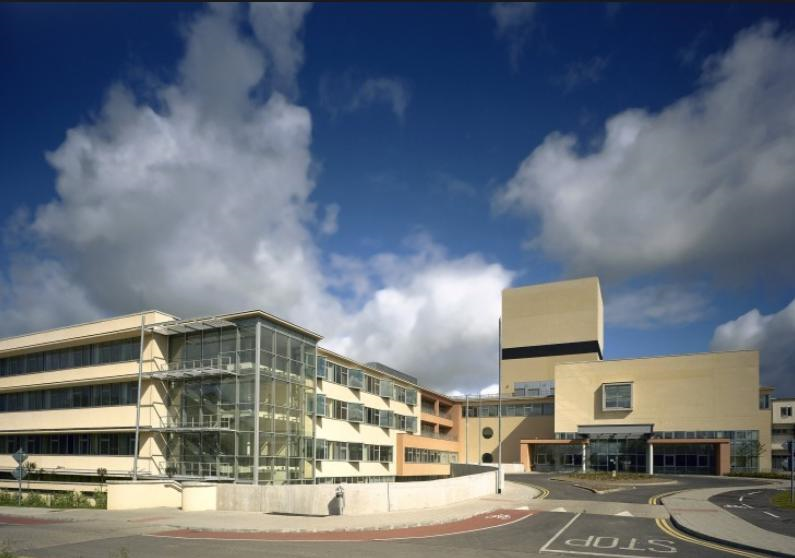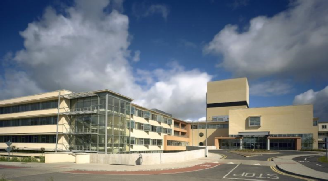 During these years I was now living in a smaller community than I had been previously used to, which brought challenges as well as rewards. There were the ups and downs of daily Community living as well as the joys of celebrations shared. I admired the gifts of each member of the community as they went about their home-making duties, their creative involvement in the local parish activities working hand in hand with the Servite Fathers, as well as the challenging work of teaching in Blakestown community school. During my stay in Blakestown, I was also witnessing the poverty of the wider community around us: the constant dangers from local vandalism and the multiple difficulties of social disadvantage. My time in Blakestown which came to an end in 1999 brought me closer than ever to our mission statement of "standing in solidarity with the poor and marginalised". It was truly a graced time in my life.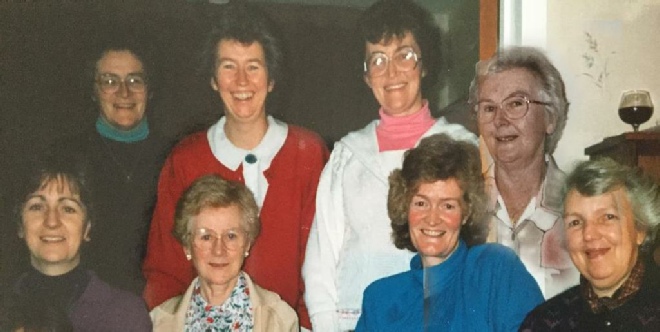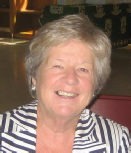 In 1978/79 the Servite Friars were invited to take over the running of a new Parish in Blakestown, in Dublin West. This whole area was considered to be quite deprived and struggling at that time, so it was a huge challenge for the Servites, to get it up and going . Mary Finan was in Rathmines at the time and on meeting Fr. Joe Madden by chance one day, he suggested to her to ask the Regional if there was any chance some Sisters would be sent out to this new parish …..and so it came to be …Noel Ingoldsby, Margaret Mary Joyce and Francis Gates arrived in Blakestown, lived in Briarwood at first, before the present house was built for St Louis.
On the visit of Pope John Paul in 1979, a number of new foundation stones were blessed, by the Pope, including one for the new Church in Blakestown. Margaret Mary has given some insights into the early days, and how challenging life was for the first Sisters there. I arrived in September 1984, to take up a Teaching post in the new Community School there, in Irish, Religion and Home Economics. It was then a huge school, on vast empty playing fields, with open access to whoever wished to walk through the grounds. Horses, motorbikes, prams and buggies etc, all passed by just outside the classroom windows…and the activity outside was usually more entertaining that what the teachers were offering inside! The culture shock for me coming from Dun Lughaidh was unbelievable, and very difficult, but I took it as a challenge and kept going. I was there from 1984 to 2007.
The life of the faith Community in the area was growing and developing, and the enthusiasm and involvement of so many of the lay people, with St Louis and the Servites, was wonderful …it was their Church and so they were going to carry it, get involved and be a part of what was being celebrated there. The involvement of so many St Louis Sisters over the 40 years of the life of this Parish has been immense, a sincere sharing in collaboration, development, communication and hard work. Our involvement with the Faith Community in the Liturgies, Sacraments, Easter Liturgies, Funerals, Fund Raising ,and other celebrations was marvellous, and we brought a dynamic energy to much of Parish Life. Of the 26/28 St Louis Sisters who came to spend time in Blakestown, many of them became good friends of the people here, and walked with them in their sorrows and in their joys.


We were involved in all sorts of Ministries over the years, for example, some of the sisters were involved in Formation, giving and receiving, with 4/6 of the younger St Louis sisters at the time, others worked as Parish Sisters, or taught in the Primary and Community School, or hours on Visitation in the Hospital, or supported the Travelling Community, or with children in the Choirs, or took on Trusteeship in the schools, or joined the Boards of Management…I hope I'm not leaving anyone out here, but retirement was no obstacle to getting involved in this area.
In October 1996, the massive Shopping Centre opened up, costing 190,000,000, but bringing much employment and life to the Blakestown area. But its arrival also opened up a new reality…the choice of shopping or praying on a Sunday morning, which became more focused, difficult to accept, to this very day. The Servite Community brought their ministry in Blakestown to a close in 2006, due to a shortage of personnel, and that was a difficult transition time for many here. They were replaced by a kindly Fr Liam O' Cuiv from the Diocese, who ministered for 10 years here.
But life has also changed in other ways around Blakestown in recent times, with the announcement on the 10th December 2017, of the sudden and unexpected closure of the Church of St Mary of the Servants, taking place on the 7th January 2018. The absence of any real communication or discussion with St Louis or with the people, generated much disappointment, anger and regret in the area, especially in the loyal Faith Community of Blakestown, who tried every approach to reverse this decision …but to no avail.
These are but a few memories and reflections on the 40 years so far, of St Louis Sisters in Blakestown. We lived, we shared, we laughed, we cried, we prayed, we talked, we loved, we dreamt, we planned, we listened, we differed, we sang, we partied, we cooked, we left… Others will have different memories surely, but I'm happy to add my memories to the story that is Blakestown, and wish a happy, healthy, peaceful and enjoyable new life, as home to Winifred and Josephine, surrounded by so many stories, in so many Archives.