Seo agus Siud November 2017
There is a season for everything. That is so true for us in the Motherhouse Community in Monaghan. While we grieved the illness and death of Sr. Ancilla we also had the joy of celebrating Sr Connla O' Malley's 95th birthday and Srs Maura Flynn's and Proinnsias Mc Kiernan's Platinum Jubilees. Connla celebrated her birthday on Sunday 3rd May in the company of the Community and her niece Mary, nephew Martin and their families. The Platinum Jubilees were celebrated on Wed 24th May. Sr Proinnsias was unable to be present but she was specially remembered in the Mass offered by Fr Paddy Mc Ginn. Mullinahinch Nursing Home where Sr Paulinus Woods is resident celebrated a week of entertainment with music, dancing, comedy, storytelling and vintage displays. Relatives and friends of Sr Paulinus joined in the festivities. Maire Cannon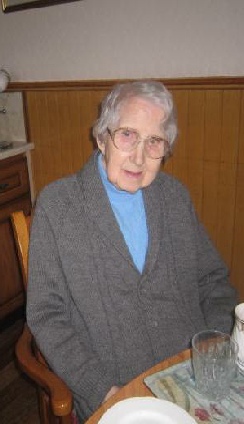 On 24th August in Claremount Nursing Home, Claremorris Sr Mona Lally celebrated her 95th birthday.
Fr. Paddy came from Kiltimagh to celebrate Mass with us. Mona was joined by her close relatives,
the SSLs from Knock and a fellow resident in the Nursing Home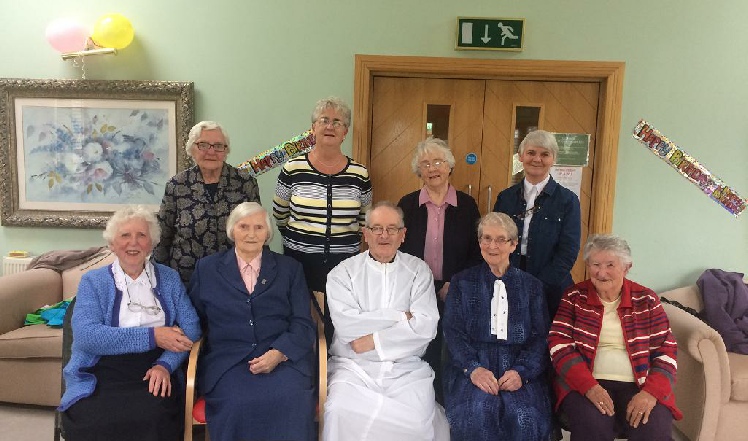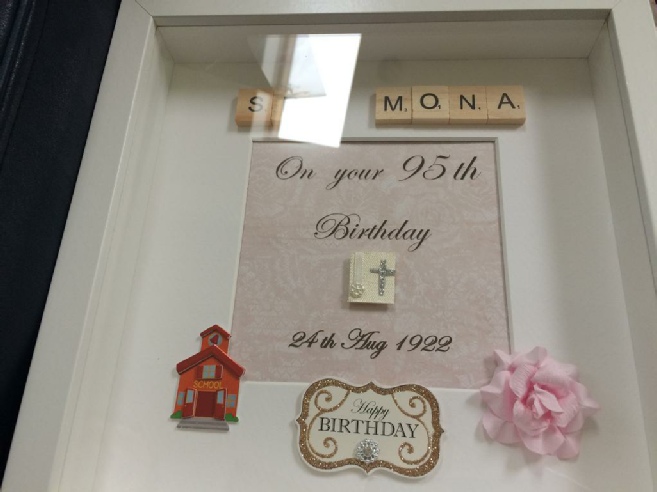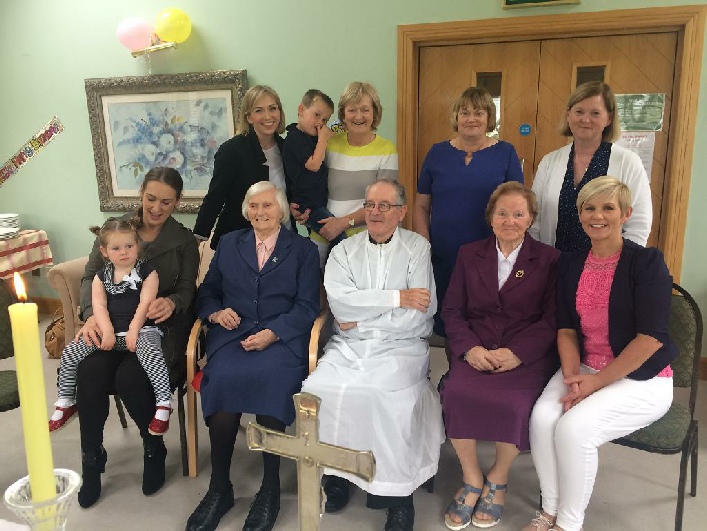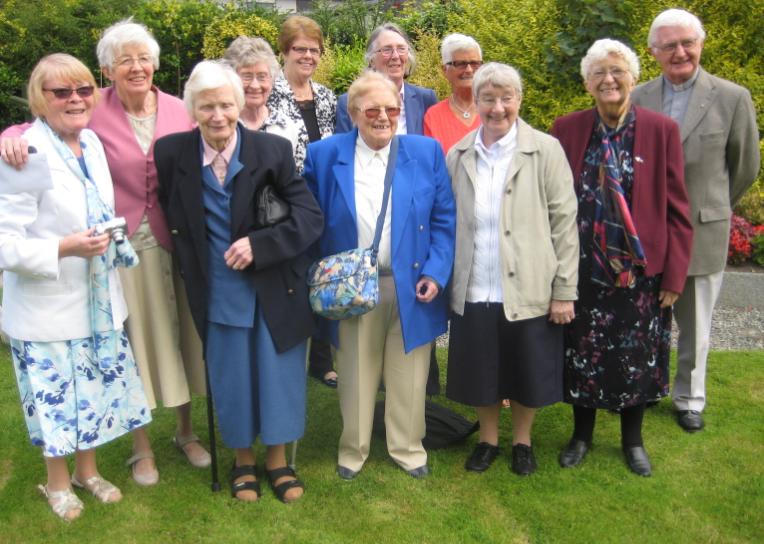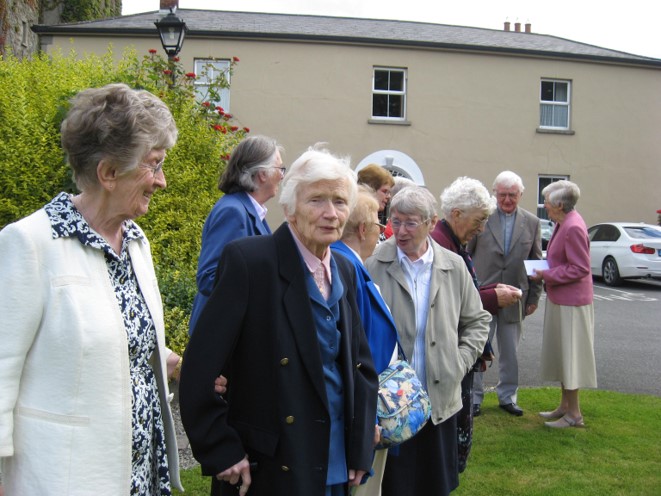 In the year 1957-58, 22 young women set out on a journey of life which, like any journey, had many twists and turns, some diversions, some unexpected stopovers. These 22 came to the Novitiate in Monaghan between September 8 and February 2. In the three years that followed, they were received into Religious Life, made first profession in 1960 and final profession in 1963. This year the group has been celebrating its "Diamond Jubilee" with much sharing of memories and experiences of the intervening time . We talked about our years of ministry in Africa, Ireland, England and California within St. Louis and our lives in the wider world of family and society.
The group had its celebration on August 10, 2017, beginning with Liturgy in Dun Lughaidh, Dundalk, followed by a group photo and lunch in "Jackie's" on the Dublin Road outside Dundalk. As well as seven SSLs, we were so happy to have three others from the 22 joining us for the occasion, Pam Wallace Beacon, Ellen Alyward McKean and Anna Maria Cullen.
We are very conscious that five have gone home to God – Lucina, Emma, Maeve O'Reilly, Antoinette and Eileen O'Loughlin and four others were unable to join us. We chose the readings of our 1960 Profession Mass for our liturgy which was celebrated by Pat Lucey OP. He included the following quotation in his homily and we liked it a lot:
What you do speaks so loudly that I cannot hear what you say. In 1960 President John F. Kennedy spoke at the Mormon Tabernacle in Salt Lake City, Utah, and used this quotation that he attributed to Ralph Waldo Emerson. We are so grateful to the sisters in Dun Lughaidh for their wonderful welcome and hospitality. Pat joined them for lunch and he was delighted to be a part of a great community.
May God bless all of us as well as our Sisters who are celebrating Platinum, Golden and Silver Jubilees this year. Anne Kavanagh
"An Rud Is Annamh is Iontach."
We had a gala day in our community recently.
It was the celebration of the Diamond Jubilee
of Sr Maeve (O'Sullivan) and the Golden Jubilee of Sr Ann (Matthews), on Sunday, October 1.


The Liturgy consisted of two major events: Mass at midday and Evening Prayer at 5.30p.m. The Introduction to the Mass was given by Mary Jo. She based it on what she took to be the Holy Spirit saying to her while preparing : An Rud Is Annamh is Iontach : What is Rare is Wonderful. She briefly developed the two related ideas - the fact that these celebrations will, before very long, be a lot more annamh than now and the great wonder of a religious vocation.
Then she took us on two quick world tours, depicting the travels of the two celebrants as they traversed our planet, the one to the forests of Brazil, the other to the hot sands of Nigeria, and much more besides, until they reached the County of The Little Hills, Conndae na gCnoc Mbeag, the Drumlins of Monaghan, all the way to the Rock on the Plain of Ross, better known as Carraig Mhachaire Rois - right where we were assembled.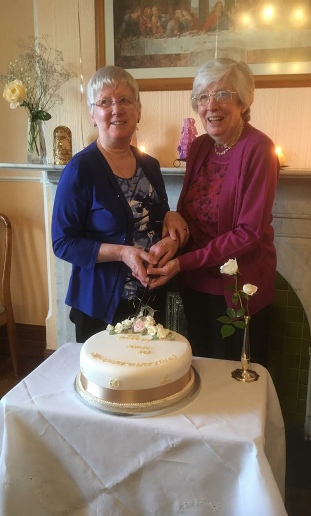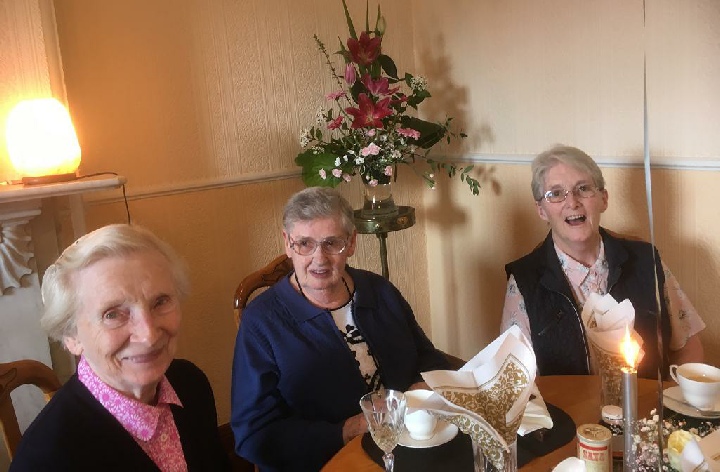 The second liturgical event was Evening Prayer at 5.30p.m., using a well-liked, alternative, contemporary text, where we gave some attention to "the thin places of our day" – where God seemed particularly near, and prayed that God would indeed reveal God's face to us. The singing throughout was "special" and was enhanced by the visiting Sisters.
Then, of course, there was the liturgy of Decor and the liturgy of the Table. The floral arrangement, at every turn, was truly beautiful - a little meditation every few minutes as you moved through the house. Each arrangement tall and elegant (I wonder why !), and the chapel arrangement bowing to the altar. The food was delightful. Marie says you will always know the taste of food that has been prepared with love. This was !
After the famous 8 o'clock programme on RTE 1, we had "great craic" and two heartfelt "thank-you"s. A very good time was had by all. Mary Jo Hand SSL