Seo agus Siud November 2017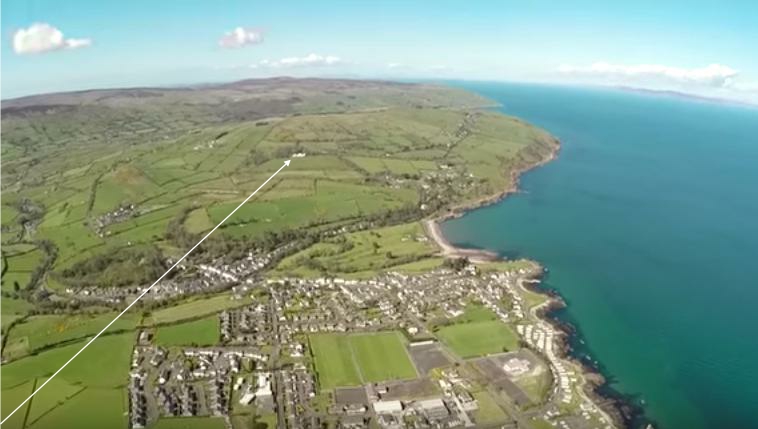 GLENVILLE, CUSHENDALL
a brief history of the house, its occupancy
and the apostolate of those who lived there
by Enda McMullan
Glenville, a delightful, old-world mansion on the heights above Cushendall, on the scenic north Antrim coast, became for many years, the home of the Sisters of St. Louis. During those years of tenure the house passed through many transformations and its inhabitants many apostolates!
The house had originally been the home of a family named McAuley, who figured largely in local history and their motto, "Dulce Periculum: Boot and Spur" was inscribed above the entrance to the house, a fact that puzzled many. A 'pleasure garden' full of exotic plants and artifacts had been planted up the hill opposite the house by a much-travelled, previous owner and two huge shells, which for many years stood on either side of the front door, were part of his souvenirs. When the Sisters bought the house in 1945, it had been functioning as a hotel by the owner, Mrs Black, who had vacated Glenville for her new home at Legge Green in the village. When the Sisters took ownership the house consisted of a main house, with all its furnishings, a separate tower, heating equipment, a house in the grounds, which the Sisters christened 'Prague", a Gate-Lodge a short length from the house as well as a garage, hen house etc. There was also a large kitchen garden, much worn-out, but included lovely Siberian crab apple trees and a bedraggled green house, home to a luscious vine of black grapes,
St Louis owned Glenville for twenty years. As 'Mount St. Joseph's', Glenville opened on June 1st 1945, Feast of The Sacred Heart, a feast dear to the St Louis Institute. The Superior General, Mother Columbanus, with Sisters Martina, Gabriel and Hyacinth, arrived in Cushendall on the 3.15pm. bus from Larne and were warmly welcomed by Mrs Black.
On June 25th. 1945, an altar was installed in the Convent and Mass was said for the very first time on July 4th. by Fr. James Black. P.P. He was the son of the previous owner of the house. (He died as curate in St Agnes Parish, Belfast, having among many other things founded St. Agnes Choral Society.)
The Sisters opened a School of Domestic Economy, which was officially opened by Fr. Black on September 24th 1945. Seventeen students were on the roll. A wide curriculum was offered; Irish, English, French, cookery, laundry, needlework, dressmaking, art, elocution, music and singing, First Aid, 'sick-nursing' as well as outdoor pursuits of poultry-keeping, gardening and games.
The school experienced a tragedy on December 8th. 1945, when one of the students, Dympna McNamee, died as a result of an cycling accident when she crashed into a horse and cart at the foot of the hill. She was rushed to the Waveney Hospital in Ballymena for a serious operation, but sadly, died. May she rest in peace.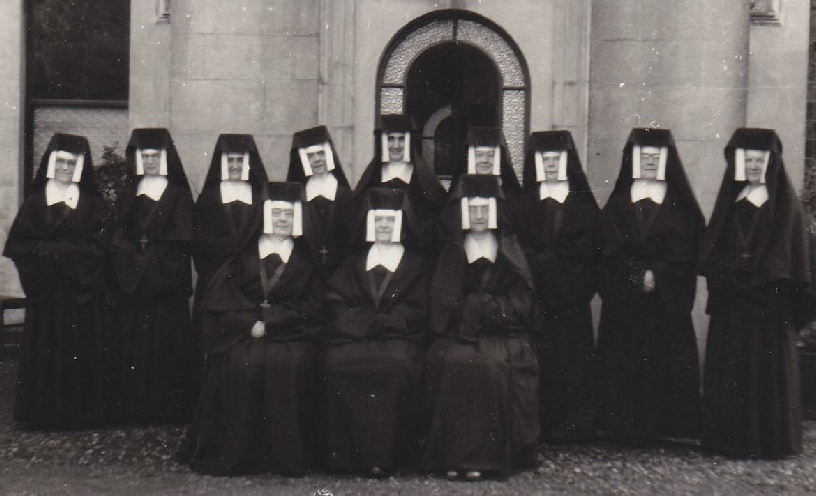 Back Row: Srs Catherine Byrne, Benedict Joseph Maloney, Clare, Irene Hayes, Connla, Michael, MacNaosa, Oliver, Bernardine Tierney. Front Row: Mothers Ursula, Columbanus, and Regis
When the teacher in Ballyeamon Primary School left to look after her ailing mother, there was no applicant for her job and a request was made to St. Louis. Sr MacNaosa was sent from Ballymena as Principal and was assisted by Sr. Rose Neeson, who worked in the school for one year and was replaced by Sr. Catherine Byrne. When Sr MacNaoise went to Africa in 1960 there were seven applicants for her post! At this time, Sr. Cecily Dolan took over as Principal of Knocknacarry Primary School, in the absence of Peter Paul Delargy, who was away on one year's study course. On April 21st of that year she prepared a concert and among other items was a play, 'Roses of St. Dorothy'. A past pupil of St. Louis, KIlkeel, Mrs Moya Hinds, helped her produce it.
In 1951, Sr. Cecily Dolan was appointed to St Patrick's and St. Brigid's PS at The Bay, Glenariffe. In 1952, Sr. Mona Lally replaced Sr. Cecily, who was assigned to Great Yarmouth. In 1955 Sr. Mona went to Newcastle, Co. Down, and the Sisters discontinued their apostolate in The Bay School. I, personally, have wonderful memories of being taught by these two gifted Sisters and grateful for the contribution they made and the legacy they left behind.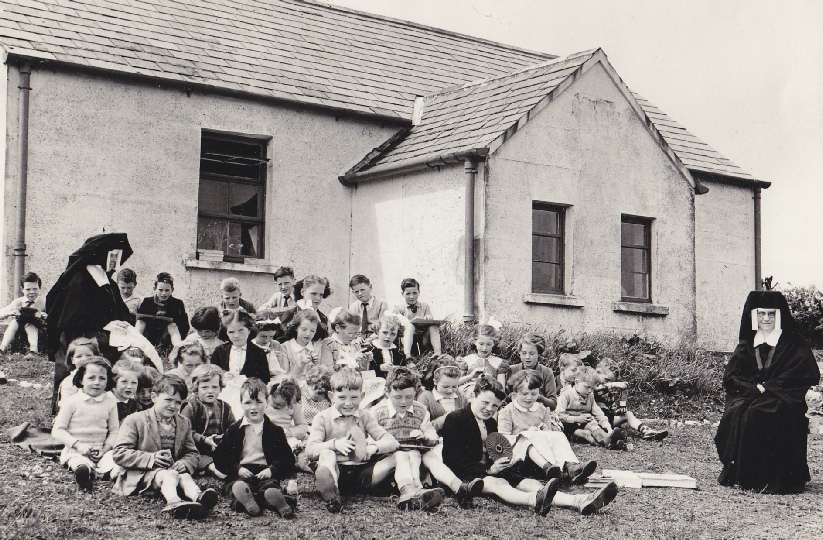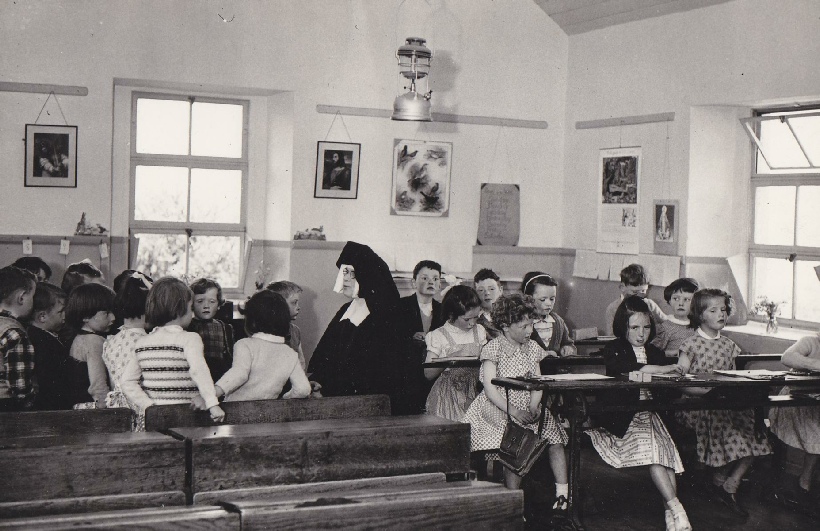 Sisters MacNaosa and Catherine Byrne at Ballyeamon School.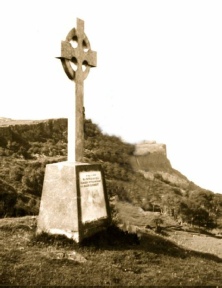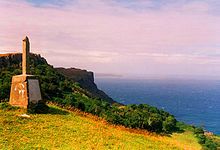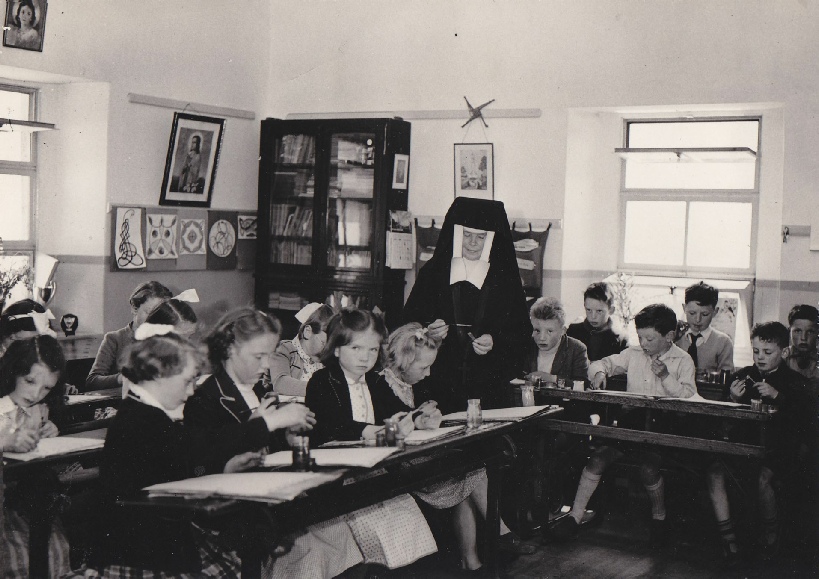 Note the hurricane or oil lamp. No electricity!
"O Bury me in Murlough, where my boyhood days were spent…", a quote from a poem written by my father of Roger Casement's wishes, which unfortunately never came to pass. However, in 1951, Eamonn de Valera came to unveil a Memorial Plaque at Murlough Bay, adjacent to Ballycastle on the north Antrim coast. On that occasion he, along with Frank Aiken, Minister of Foreign Affairs, lunched with the Sisters at Glenville. Mother Columbanus and Mother Ignatius were also present.
The celtic cross and plaque
erected in 1951
The monument as it is today. It was attacked and almost destroyed by the B-Specials from Torr Head Barracks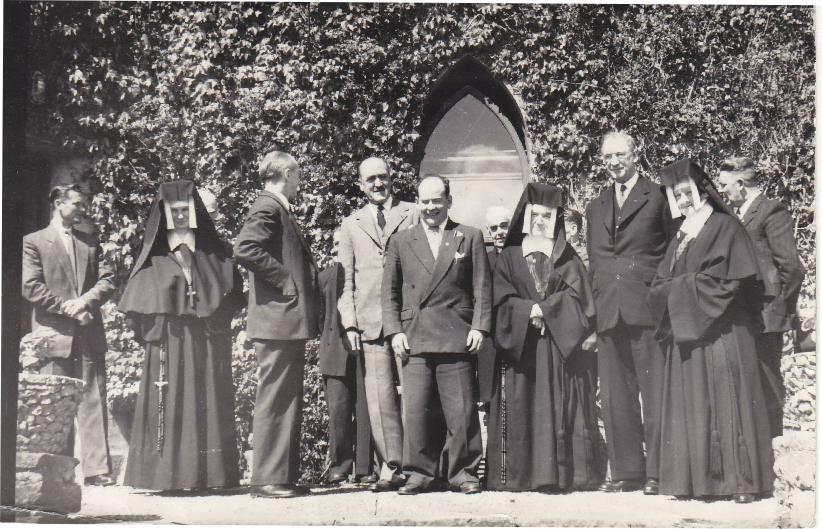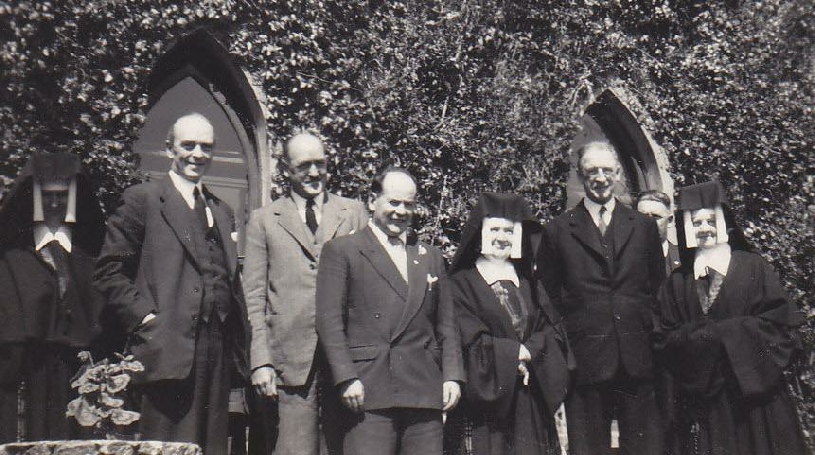 Photos taken at the time of the visit
Mother Ignatius, Mother Columbanus, Eamon de Valera and Mother Laurentia
In 1952 the Foundation Stone of St. Aloysius Secondary School was laid by Most Rev Dr. Mageean, Bishop of Down and Connor. Sr. Mona Lally trained the choir for this occasion as Miss Kearney NT, who had been Choir Mistress for many years had retired. The formal Opening and Blessing took place on April 29th. 1954 by Bishop Mageean and Canon James Black P.P. The doors opened to staff and pupils on May 3rd. Three Sisters were appointed to the Staff. Sr. Bernadine Tierney who taught music and Irish until her resignation in April 1959, due to a terminal illness. She died on March 1st. 1961. Sr. Mona Lally replaced Sr. Bernadine in 1959.
Irish plays were a regular feature and each year the school competed successfully in the Glens' Feis and Ulster Festival. Sr. Clare Maguire, who taught needlecraft, was responsible for the costumes made in class by the students. She and Sr. Mona continued to teach in St Aloysius until 1966, when both went to Belfast on the new Foundation of St Genevieve's Secondary School and became Vice -Principal and Principal respectively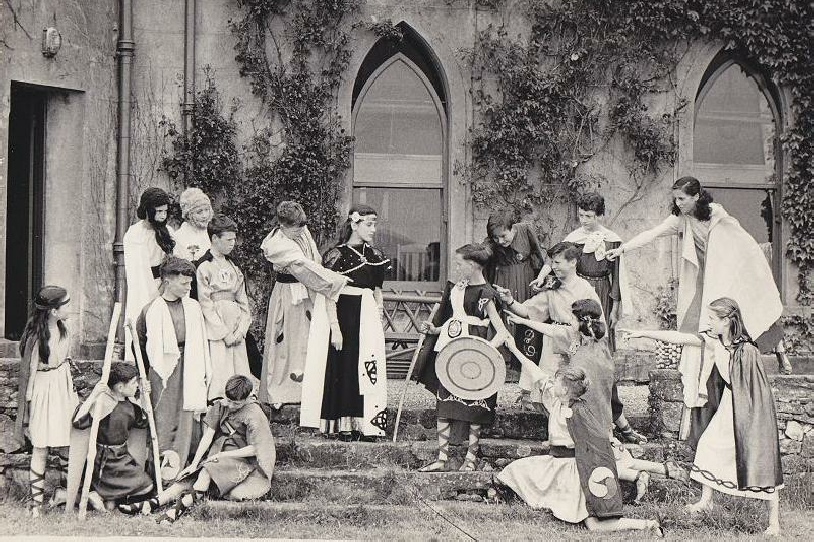 In 1959, the Cushendall Branch of 'The Friends of St. Louis Missions' was formed. For many years they helped contribute to the success of the Sisters' involvement in the mission schools in Nigeria and Ghana. For a short period in the early 60's, Glenville was used as a Juniorate for girls, in their formation, before entering with St. Louis Novitiate in California, which had been a new Foundation in the previous decade.
When Glenville closed as a St. Louis Convent in 1966, after many happy years, the Sisters went to live at St. Mac Nissi's College, where at various times Sisters Michael Kavanagh, Connla O'Malley, Marie Grignon Hayes, Martina Duffy and Marie Gertrude Magill formed community there and supported the school in many various and indispensable roles.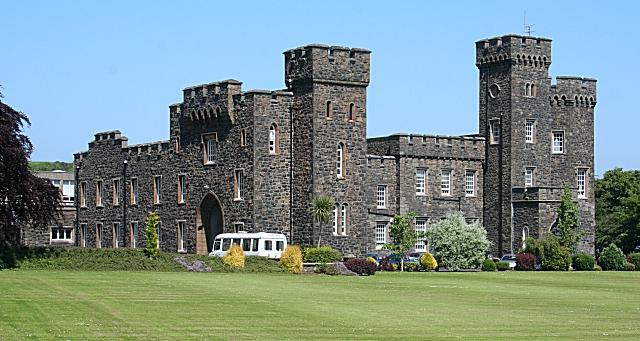 St Mac Nissi's Colllege, Garron Tower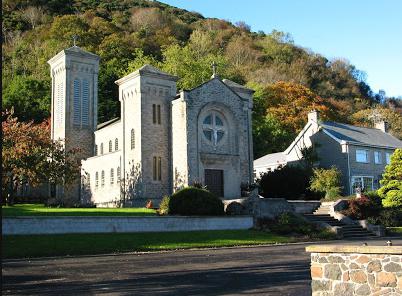 The Church at Garron Tower and the House where the Sisters lived