Don't ask what the world needs. Ask what
makes you come alive, and go do it.
Because what the world needs is
people who have come alive.
There is something in every one of you
that waits and listens for the sound of the genuine in yourself.
It is the only true guide you will ever have.
And it you cannot hear it, you will all of your life
spend your days on the ends of strings that somebody else pulls.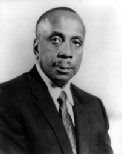 What Laudato Si' has to say about the action of the Holy Spirit: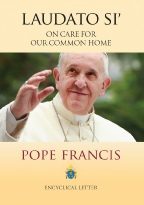 79. In this universe, shaped by open and intercommunicating systems, we can discern countless forms of relationship and participation. This leads us to think of the whole as open to God's transcendence, within which it develops. Faith allows us to interpret the meaning and the mysterious beauty of what is unfolding. We are free to apply our intelligence towards things evolving positively, or towards adding new ills, new causes of suffering and real setbacks. This is what makes for the excitement and drama of human history, in which freedom, growth, salvation and love can blossom, or lead towards decadence and mutual destruction. The work of the Church seeks not only to remind everyone of the duty to care for nature, but at the same time "she must above all protect mankind from self-destruction".


80. Yet God, who wishes to work with us and who counts on our cooperation, can also bring good out of the evil we have done. "The Holy Spirit can be said to possess an infinite creativity, proper to the divine mind, which knows how to loosen the knots of human affairs, including the most complex and inscrutable". Creating a world in need of development, God in some way sought to limit himself in such a way that many of the things we think of as evils, dangers or sources of suffering, are in reality part of the pains of childbirth which he uses to draw us into the act of cooperation with the Creator. God is intimately present to each being, without impinging on the autonomy of his creature, and this gives rise to the rightful autonomy of earthly affairs. His divine presence, which ensures the subsistence and growth of each being, "continues the work of creation". The Spirit of God has filled the universe with possibilities and therefore, from the very heart of things, something new can always emerge: "Nature is nothing other than a certain kind of art, namely God's art, impressed upon things, whereby those things are moved to a determinate end. It is as if a shipbuilder were able to give timbers the wherewithal to move themselves to take the form of a ship".
238. . . . The Spirit, infinite bond of love, is intimately present at the very heart of the universe, inspiring and bringing new pathways.
What are the 'ecological virtues' that Pope Francis talks about? Francis is recognizing that, as God's created loved one, we have been assured of God's continuous presence and, at the same time, given the freedom to grow into the fullness of who we are. Our co-operation or otherwise with God's creative Spirit has brought us to where we are today. While much of our universe has benefited from our evolving, there has also been much destruction – all of which prompts Francis to invite us into a new relationship with our common home.
What is that relationship? Perhaps it is to deepen our awareness of who we are and who God is for us. Perhaps it is to allow the new insights of scientists and theologians to shape and reshape how we understand and engage with the natural and human world. Perhaps it is to invite the God's Holy Spirit to be the midwife of our inner beauty as we learn to walk towards the framework of a new cosmology. "The Spirit of God has filled the universe with possibilities and, therefore, from the very heart of things, something new can always emerge". (Laudato Si' 80).
Finola Cunnane offers us these words of reflection on Laudato Si':
THE SPIRIT OF GOD HAS FILLED THE UNIVERSE WITH POSSIBILITIES
In his encyclical, Laudato Si', Pope Francis enters into dialogue with all of us about our common home. Reminding us that we are participants with God in the 'continuation of creation', he urges us to reflect on our relationship with nature and the environment.
He sets out to illustrate the intimate and inseparable relationship between the Spirit and all creation and is at pains to show that the presence of God permeates the living, natural world. While nature, in its entirety, not only manifests God, it is also the locus of God's presence. "Discovering this presence", writes Francis, "leads us to cultivate the 'ecological virtues'". (Laudato Si', 88).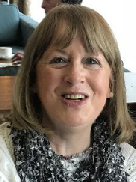 Let us pray
Holy Spirit, open our hearts to the wonders of your presence among us.
May we see the signs of your beauty within and about us
and ever be in awe of the simple gifts of life.
Help us to reach beyond ourselves
and to give thanks for all your creation that shares this universe with us:
peoples of every nation, animals of every species, all forms of vegetation,
the planets, stars, and all the elements.
We ask this in union with Jesus Christ in whose image all is created. Amen.
Nuala Cole reflects on one of the Sustainable Development Goals:
17 Global Goals for Sustainable Development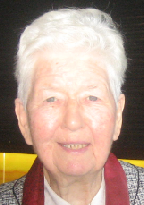 In September 2015, as the U.N. celebrated its 70th Anniversary, the U.N. Secretary General, announced that after three years of negotiation and debate, 193 countries had agreed to a set of global goals for sustainable development more bold and ambitious
than anything before. The unifying thread throughout these 17 goals is the commitment to eradicating poverty in all its forms by the year 2030. They include ending extreme poverty and hunger, fighting inequality and injustice, and combating climate change, with big commitments on providing good healthcare for all, quality education, clean water and sanitation, renewable energy, good jobs and economic growth
Water is essential for life. Without it we would die in less than four days. But clean water is a finite resource. 96% of the Earth's water is salt water. Almost 3% is ice. Less than 1% is fresh water in lakes, rivers, etc. Ireland gets lots of rain and with proper management and care we should not have a water problem. But in some parts of the world water is very scarce indeed, and this allied to poor infrastructure, causes huge problems for the people who live there. More than one billion people live without clean drinking water. Worldwide, lack of clean drinking water is the major killer of children under five years old, while every single minute two people die, because they do not have access to clean water.
Poor sanitation is a major part of the problem. 2.4 billion people lack access to basic sanitation services such as toilets and latrines. More than 80% of wastewater resulting from human activity is discharged into rivers or sea without any pollution removal.
The extent of this global problem has led to the launch this year, of the "International Decade for Action: Water for Sustainable Development 2018 – 2028".
At a personal level, what can I do? To begin with I can avoid wasting water, which I do in so many ways, long showers, leaving taps running, overuse of dishwasher or washing machine… the list is long. I can also avoid polluting water, which I do for example when I allow fat, oil or grease down the sink, or tea leaves and coffee grounds.
At a different level, I can use my vote, and my voice to help increase Ireland's contribution to overseas development, and I can make my own personal contribution. We live in a very unequal world. When one of the Greek philosophers was asked by a follower, "When will justice come to Athens?" He replied "Justice will only come to Athens when those who do not suffer are as indignant as those who do".
Howard Thurman
1899 - 1981

This newsletter reflects on the period Pentecost to mid-Summer.
But we begin with words of wisdom from Howard Thurman that are valid at any time:



Let me reflect on just one of these goals to get some idea of the challenge.
The sixth goal is that by 2030, people everywhere should have access to clean water and sanitation.